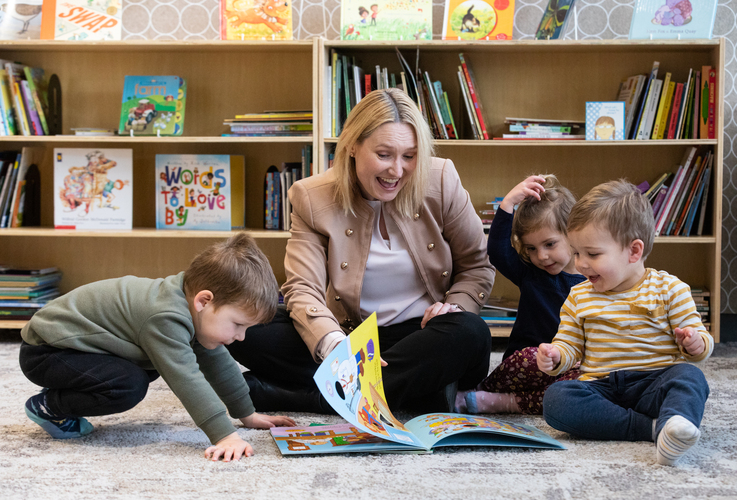 Opening Hours
Monday to Friday: 7am to 6.30pm, 50 weeks of the year.
About us
Alive Catholic Early Learning at Mount Barker facilitates curriculum-based learning for children from 6 months to 5 years. With a holistic approach to learning, we believe in nurturing the development and growth of the whole child including their physical, emotional, social, spiritual and cognitive needs. Early Childhood is a critical time in a child's development and we are committed to actively supporting your child's brain growth during this time of their life.
Located in close proximity to the wetlands, Alive Mount Barker has a strong focus on sustainability, ecology and nature which is reflected throughout our curriculum. Your child will go on nature walks which allows them to explore the natural environment as well as complete investigations into the native flora and fauna located in the area.
At Alive we don't just enrol a child but the whole family - we build relationships where your family feels valued through structured support and communication to create a community of belonging.
As Alive Mount Barker is co-located with St Francis De Sales College, an R - 12 Catholic School, this ensures we can provide an educational pathway for your child from 6 months to adulthood. It also allows the Centre to access shared resources such as the Sports Centre, Library and Nature Play areas as well as participate in College activities such as Book Week, liturgies, cooking projects, and Science Week.
Our strong relationship with the College allows us to provide your child with an intensive school transition program to St Francis. The transition program goes for approximately 10 weeks and includes:
Visits from the Reception teachers
Visits to the Reception classes
Opportunities to join the Junior School during recess
Attendance at assemblies and prayer time
Participation in the College's formal transition program
Although we provide this opportunity to those who will transition to the College, you are not required to be enrolled at St Francis de Sales to attend Alive. We are committed to ensuring each child is supported with their transition to Reception. Our co-location with the College ensures that your child will have experience in a school setting, helping to prepare them for the next part of their educational journey wherever they go.
Our Program
During your child's day, they will participate in a core curriculum program which runs from 8.30am to 4pm daily, just like they will when they attend school. We provide educational experiences which cater for each child's unique learning development and our extended hours ensure that we support parents through the provision of long day care.
We believe our youngest children from 6 months are highly capable learners. Our curriculum is tailored for each age group and is influences by the interests and development of each child. Every learning experience is guided by our curriculum, which will support your child to reach their full potential. Our curriculum includes:
Numeracy
Literacy
Sustainability
STEM
Spirituality
Social and Emotional Development
Movement and Sensory
Arts and Expression
Our Educators
To ensure your child is receiving the best education possible, we employ qualified educators and teachers who are passionate about working with children and families to achieve the best learning outcomes possible.
Our educational leader is a degree qualified Early Childhood Teacher who oversees our curriculum and assists educators to ensure a high quality, consistent program is delivered to your child which is in line with all government regulations and the Early Years Learning Framework.
Enrolment Enquiries and Centre Tours
Due to the current COVID safety measures in place, Centre tours are not being conducted. We are still able to take new enquiries and enrolments for 2022, with families able to privately view the Centre upon request. We thank you for your understanding and cooperation in helping us provide the safest learning environments possible for our children and families.
For more information about the Centre, our enrolment process and how we can best support your child, please contact us on 8188 8700.