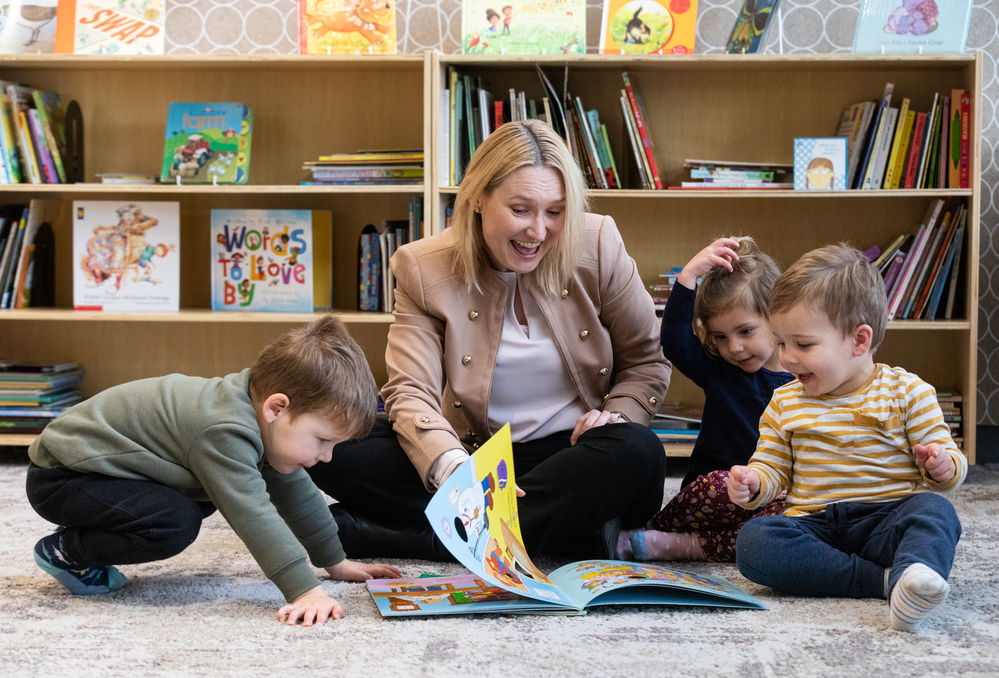 The difference between early learning and childcare
9 September, 2020
Whether you've decided to return to work or study, need some time to yourself, or are looking to enhance your child's development, making the decision to enrol your child in early childhood programs can be daunting, but incredibly beneficial for you, and your child.
But with so many forms of care available – childcare, family care, kindergarten, preschool and early learning centres – it can be hard to know which option is best for your child and family.
Homecare aside, there are three key types of care in Australia for children under the age of five years old:
● childcare – which is long day care and occasional care;
● preschools and kindergartens; and
● early learning centres.
To help you with your decision making, we have outlined the differences, similarities and benefits of each type of care below.
Childcare centres
Childcare centres provide regular full-time or part-time care, in places specially designed for children from birth to five years.
The benefit of childcare centres is that they are open from early morning until early evening to provide families with flexible times for pick up and drop off before and after daytime working hours.
For parents who work irregular or unpredictable hours, some childcare centres also offer occasional care for families who need someone to look after their children every now and then, which can also be very handy.
Preschools and kindergartens
In South Australia, preschools and kindergartens offer education and care programs for children from the age of four years old. This is to prepare them for the structured learning environment of school in the year leading up to starting primary school. In Catholic Education there are
eight preschools
that are attached to schools.
Unlike childcare centres, which offer long day care, kindergartens and preschools usually only run for six hours a day, five days a fortnight (three days one week, two days the next) during each school term.
Fortunately, most early learning centres, like
Alive
, provide educational opportunities which equate to the preschool or kindergarten level for children at this important stage of their learning and development, this provides families the flexibility to grow within an established early learning environment.
Gemma D'Angelo, General Manager Operations at Alive Catholic Early Learning, says children enrolled at Alive can access a preschool program with a fully qualified teacher from the age of four.
Early learning centres
Combining the long hours of childcare centres with the enriched learning environments of preschools and kindergartens, early learning centres are an excellent combined care and educational option for many modern families.
With longer opening hours, the ability to accept children from birth through to five years' old, with qualified early childhood specialists, (including university-qualified early childhood teachers), early learning centres offer the best of both worlds.
According to Liz Schembri, Head of Early Learning at Alive Mount Barker, the key benefit of early learning environments is that they incorporate the latest research in child development to create learning opportunities in everyday activities.
"Because of this, it's important to ensure we're building connections to knowledge and skills as part of inquiry in those early years to really set our children up for life," she said.
Another benefit of many early learning centres, like Alive, is that they are also co-located with a partner school, which can help with the transition from early learning to primary learning in one familiar environment.
Each Alive Catholic Early Learning Centre is led by a Head of Early Learning who is a qualified teacher and has school leadership experience.
"Owing to our experience in schools, we have a good understanding of the support children need to feel comfortable and excited about their transition into primary school," Gemma said.
"Because we understand children's development, our dedicated staff design learning programs for each child from six months through to five years of age."
Choosing the right type of care for your child
When it comes to selecting the best arrangement for your family – regardless of your decision – Gemma believes there are various factors that families should take into consideration.
"Children respond well to consistency, and routine, so it's helpful to make sure that children are going to see the same educators each day."
"It's also important that the curriculum is personalised to meet the changing needs of each child, and that the centre's approach to learning is holistic – encompassing the cognitive, physical, social, emotional, and in our case, spiritual development, of your child."
"At Alive, our curriculum covers social and emotional learning, movement, STEM, numeracy, literacy, arts and expression and spirituality. With our relevant and dynamic curriculum children enjoy a range of experiences and opportunities".
"We provide young children with a quality education, which includes our commitment to proactive and effective relationships with both parents and their children."
Liz Schembri from Alive (Mount Barker) said that at an early learning centre like Alive, everything it does is centred around supporting a child's development in this incredibly formative period of their life, and shaping how they see themselves as learners – now, and into the future.
"At Alive, we focus on a child's social and emotional wellbeing as well as their brain development. Early learning is about understanding these major developmental milestones and tapping into those experiences and teachable moments in everyday life that will enable children to learn," she said.
Places are now available at Alive Catholic Early Learning in Mount Barker. Contact us today to book a tour!